Disclosure of Company Information Leads to Better Business Reporting and a Better Investment Climate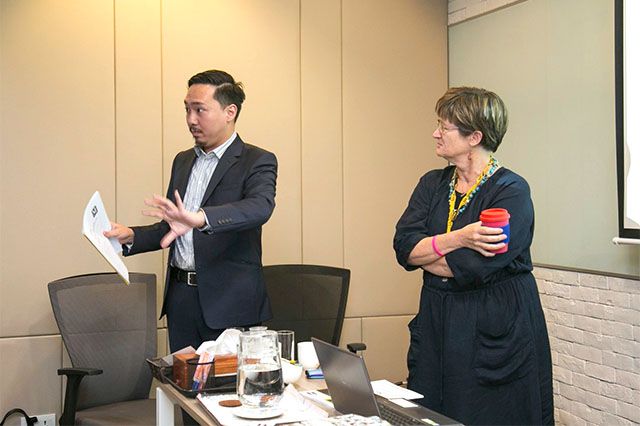 On 6 February, Vicky Bowman, Director of MCRB and Thompson Chau, Myanmar-based business journalist and Director of the Board of the Myanmar-Hong Kong Chamber of Commerce and Industry, addressed a corporate briefing hosted by the chamber on how online disclosure of corporate information and constructive engagement with the media and other stakeholders can support a more healthy investment climate, as well as build a company's social licence to operate by facilitating more accurate media coverage of the company and its activities.
Vicky highlighted recent developments in Myanmar regulation concerning corporate disclosure including requirements under the Myanmar Investment Law, the Companies Law, continuous disclosure obligations on unlisted public companies with more than 100 shareholders issued by the Securities and Exchange Commission of Myanmar (SECM), as well as directives from the Central Bank and requirements for publishing Environmental Impact Assessment reports. These issues were covered in the 2019 Pwint Thit Sa/Transparency in Myanmar Enterprises Report published by MCRB and Yever.
The Pwint Thit Sa 2020 report, which had just begun the research phase into over 250 Myanmar companies and their corporate disclosure, would cover the most recent regulatory requirements. For example, new requirements on all companies to disclose beneficial ownership (BO) and on banks to undertake customer due diligence had issued in November 2019 from DICA and the Central Bank respectively, in response to the recommendations to Myanmar from the Financial Action Task Force (FATF) set up by the OECD to combat money-laundering. MCRB had recently submitted comments on disclosure of company information in response to a public request from DICA for input. The SECM and DICA are also working on a new Notification on Corporate Governance targeted at listed companies and companies with more than 100 shareholders.
BO disclosure of extractives companies, including whether they are politically exposed persons (PEPs), is also a requirement as of 1 January 2020 for Extractives Industries Transparency Initiative (EITI) member countries such as Myanmar. DICA had recently uploaded the first batch of extractives BO and PEP details, which was a positive step towards EITI compliance although it demonstrated that more training was needed to explain the BO and PEP concepts, including the distinction between legal ownership and beneficial ownership, which was more focussed on those who 'exercise ultimate effective control over a legal person or arrangement'. Vicky took the example of Air KBZ to demonstrate that in Myanmar family-owned businesses, beneficial ownership may not be exactly the same as legal ownership. Legal ownership details were already available for companies through the company extracts which could be purchased for 10,000 kyats from the MyCo database.
In his presentation Thompson gave a brief overview of the media environment in Myanmar, and the challenges in undertaking business reporting, in the absence of readily available information about many investments and companies, highlighting the ongoing investigation by Myanmar Times into whether the Myanmar Investment Commission and other government bodies were actually making available information about both proposed and approved investments available in accordance with their statutory requirements.
"In the absence of sufficient government disclosure of company activities, including investments and donations, businesses are advised to be transparent about their operations and engage with the media and other stakeholders on their own," Thompson said.
Thompson encouraged business to support effective business and investigative reporting by subscribing to and advertising with media outlets which prioritised this, since independent business reporting is essential to creating a fair investment climate and building public trust towards listed companies, banks and financial institutions.
He advised on how best companies could engage ethically and effectively with the media, including not attempting to use advertising spend to influence an outlet's reporting, not expecting journalists to print press releases at the behest of the company, particularly where there was no news interest, and should not give gifts/'brown envelopes' to reporters.
He also reminded the audience to respect the intellectual property of the media. This meant that they should not 'copy&paste' news articles onto their own websites or other communications without first obtaining permission, or alternatively providing the original link to ensure the traffic to the media website. He noted that the Myanmar Press Council had also highlighted a list of 'yellow journals'/Facebook pages which were engaged in intellectual property theft, and discouraged companies from supporting them with advertising revenue.
---
အထက်ပါအကြောင်းအရာနှင့်ပတ်သတ်၍ ဆက်လက်ဖတ်ရှုလိုပါက