Rakhine State and Kyaukphyu Communities Want Companies and Government to Coordinate and Consult With Them on Community Development Programmes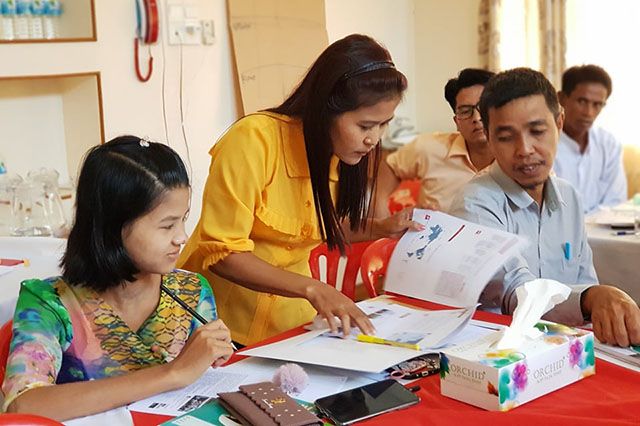 On 22 October 2019, MCRB, in collaboration with local civil society group Sky Youth, held a Dialogue on offshore gas in Myanmar at Hotel Kyaukphyu to discuss how to build company-community 'Partnerships for Development' and how best to ensure that the people of Rakhine State will benefit from offshore gas development in Myanmar.
The aim of the dialogue was to:
build communities' understanding of the nature of offshore gas investment and the project cycle (exploration, construction, operation)

discuss how companies can best create positive impacts at different stages of the oil and gas project cycle and build 'partnerships for development'.
The workshop was attended by around 40 participants. Most were from local community groups and a handful of local companies in urban and rural Kyaukphyu township (around three-quarters of those present), with others from wider Rakhine State. MCRB also invited offshore gas companies Woodside and Posco (formerly Daewoo who operate the offshore Shwe Gas field and have a share in the South East Asia Gas Pipeline (SEAGP), and ERM an Environmental Impact Assessment (EIA) consultancy, to participate and share their perspectives.
Issues concerning community development and benefits had previously been raised in the field research for MCRB's September 2014 sector-wide impact assessment (SWIA) on the oil and gas sector in Myanmar (see Chapter 4.2), some of which was undertaken in Kyaukphyu and Ann in Rakhine State in November 2013. In the SWIA, MCRB made Recommendations to Government, and as well as to Companies that they should 'develop strategies for creating positive impacts at the local, regional and national level'.
MCRB followed up the publication of the SWIA with a multistakeholder workshop in Yangon on 27/28 January 2015 on Community Engagement in the Extractive Industries and has also engaged with ECD/MONREC, MOGE and companies on the EIA process for oil and gas. MCRB has also returned to Kyaukphyu on several occasions at the request of local stakeholders and conducted training in Rakhine State on responsible business and EIA in 2017, 2018 and 2019 for a variety of stakeholders.
At the 22 October Dialogue, in addition to outlining the main challenges and questions around community development and the offshore gas industry, MCRB invited Australian oil and gas company Woodside to present on their current activities in Myanmar and the project lifecycle for an offshore gas development. MCRB and Woodside outlined the legal framework for gas investment, including production sharing contracts, the Myanmar Investment law, and environment law. Also covered were community-company relations including grievance handling, as well as the application of the Voluntary Principles on Security and Human Rights to Myanmar (see MCRB and Woodside's presentations).
Woodside outlined their existing social investment plan and Environmental Partnership Programme in Myanmar, and floated ideas for future activity. They also explained, drawing on experience of their investments offshore from Karratha in Western Australia, what long term social investment and community partnership can look like if and when a gas field is developed, emphasizing that this developed over decades, not a few years.
Participants were polled using Mentimeter on their main hopes from offshore gas development in Myanmar with 30% citing jobs, 30% citing more financial resources for Rakhine State and 11% citing better education facilities in their area. Main concerns were loss of fishing access (26%) and increased risk of human rights abuses due to increased security presence (26%), and 13% identified risk of pollution as their main concern.
Overall, when it came to local recruitment and procurement participants 'perspective of 'local' was defined as Rakhine State, rather than Kyaukphyu township, or the whole of Myanmar. This concerning recruitment of unskilled workers (42% chose Rakhine State, 11% Southern Rakhine State, 21% Kyaukphyu Township, and 11% their own village) and procurement from 'local' companies (77% companies with a Rakhine HQ, and 11% with a Kyaukphyu HQ, 11% with an HQ elsewhere in Myanmar).
Local expectations of positive benefits, including community development and revenue are often raised in the course of EIA consultations, but they are not issues which EIAs are designed to address, not least as they are not an issue that EIA consultants are well-placed to advise on. Rather they are for companies, as well as local and national government to discuss with communities. This workshop was therefore an opportunity to discuss some of these issues outside the EIA process which Woodside is currently conducting, and for communities to share their positive and negative experiences of community development programmes to date. Some of their comments echoed some of MCRB's findings in the SWIA.
The workshop was also an opportunity for communities to give views on priority areas for future community investment as well as locations and beneficiaries. Asked how a company offshore from Kyaukphyu should split its community development funding, the polling split 45:45:10 between Kyaukphyu, Rakhine and Myanmar as a whole. There was a strong preference for companies to invest in education including:
gas related subjects at Kyaukphyu Government Technical Institute

support to schools, including village schools, middle schools in villages being upgraded to high schools, and schools in very poor and remote fishing and rural villages

playgrounds and early years support for primary and pre-primary, including hygiene and santitation

digital/VR learning

upgrading material support to teachers, and ICT training

vocational training e.g electrician, as well as language training particularly English. The Youth Centre in Kyaukphyu was mentioned as infrastructure which now needed training content

lifeskills training for youth

national level education reform
Asked their views on companies donating branded educational goods with logos, 81% believed this was acceptable, 14% were opposed and 5% didn't care.
Another aim of this workshop was to have a wider discussion with communities on what community development they wanted to see from all investors in the area. Other investments identified, in addition to the offshore gas sector, included investments in the energy and power sector by VPower and MCM, and the Deep Sea Port and SEZ by a consortium led by CITIC. Participants collectively identified some of the main local, national and international stakeholders. A very strong message from participants was that investors and government needed to coordinate better on these issues, and engage Rakhine stakeholders more systematically.
---
Read also