Building an Effective EIA Process for Offshore Oil and Gas Operations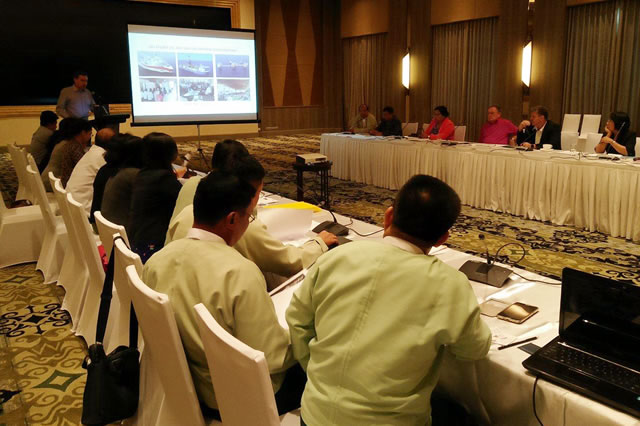 MCRB convened a meeting between government, offshore oil and gas companies and others on July 11 in Naypyidaw to discuss lessons learned from the Initial Environmental Examination (IEE) / Environmental Impact Assessment (EIA) process and to look ahead to future offshore activity including the drilling of exploration wells in the 2016/2017 season.
The multistakeholder meeting followed on from an earlier meeting held in August 2014 on the lessons learned from IEE/EIAs for oil and gas companies in Myanmar. In view of the significant planned investment in offshore oil and gas, companies are keen to ensure that they are compliant with Myanmar EIA requirements before undertaking hundreds of millions of dollars of investment in exploratory drilling.
The meeting was attended by around fifty participants from the main governmental departments involved in oil and gas EIA submission and approval process (the Environmental Conservation Department of the Ministry of Natural Resources and Environmental Conservation (MONREC), Myanmar Oil and Gas Enterprise (MOGE), and the Directorate of Investment and Companies Administration (DICA), as well as senior representatives of 14 oil and gas companies currently investing in Myanmar (Woodside, Shell /BG, Statoil, MPRL, Ophir, ENI, TOTAL, Petronas Carigali, PTTEP, Berlanga Holdings/CAOG, POSCO-Daewoo, Canadian Foresight Group, and Pacific Hunt).
Also present were representatives from Myanmar Fisheries Federation (MFF), Myanmar Alliance for Transparency and Accountability (MATA), Asian Development Bank (ADB), who are supporting MONREC in the EIA process, Norwegian Environment Agency (NEA), who are developing guidelines for oil and gas EIAs with MONREC, and the Amyotha Hluttaw Natural Resources Committee.
Participants discussed issues around content, communication and timing for EIA submission and approval.

A full meeting report will be published soon.
---
Read also