Members of the Myanmar VPSHR Steering Committee meet the Deputy Home Minister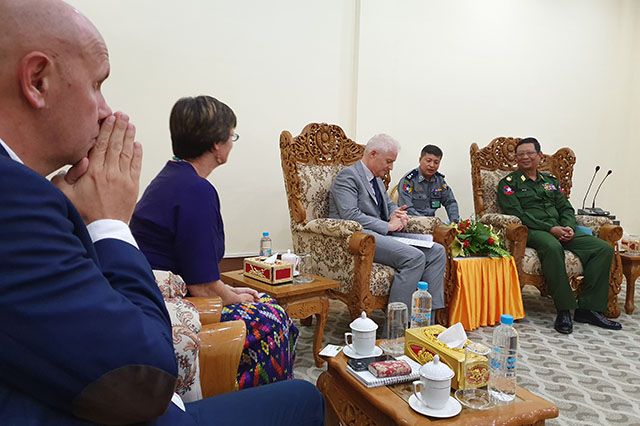 On 22 November, members of the Myanmar In-Country Steering Committee on the Voluntary Principles for Security and Human Rights (VPSHR), led by Swiss Ambassador and co-Chair, Tim Enderlin, made an introductory call on the Myanmar Deputy Minister of Home Affairs, Major-General Aung Thu and members of the Security Oversight Committee to introduce the Voluntary Principles Initiative and discuss how it relates to private security companies, as well public security providers.
The meeting was an opportunity to learn more about Myanmar's plans to introduce a new law to regulate private security companies, one of the main priorities of the Security Oversight Committee and to discuss whether the VPSHR could be reflected in the requirements for respect for human rights to be applied to these companies. It was agreed that there would be a more detailed follow-up discussion, focussed on the draft law.
The membership and ToRs of the Security Oversight Committee are available in Burmese and English (unofficial translation).
Read also