Workshop for Kyaukphyu communities on EIA and public participation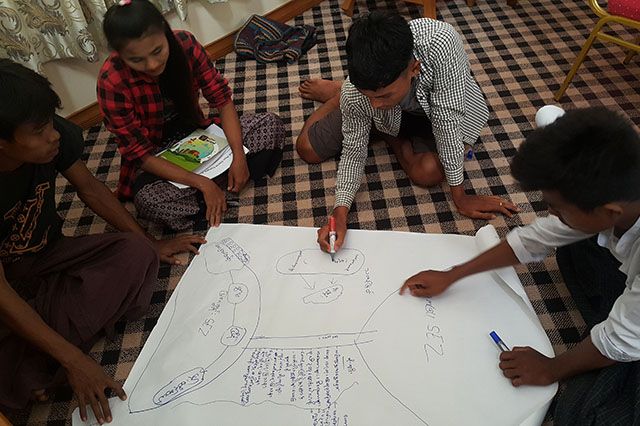 MCRB, in partnership with Scholar Institute held a training on Responsible Business and the role of Environmental Impact Assessments (EIAs) in Kyaukphyu on 29 August.
The training took place in Hotel Kyaukphyu, with around 20 participants including community members and CSOs from Kyaukphyu (Sit Taw Village, Kyauk Pyauk, Kun Chaung, Thit Poke Taung, Kyan Chaing, Chauk Chaung, Chaung Phar, Made, and Kala Bar). These villages are located in Offshore Supply Bases and Special Economic Zones. Some villages are members of the Made Island Social and Development Association (MISDA), Phyaunt Mat Thu Organization (PMTO) and the Rakha Strength Youth Development Centre (RSYDC).
MCRB presented on what 'responsible business' means, and the three pillars of the United Nations Guiding Principles (UNGPs): protect, respect, and remedy. The purpose of EIAs and the process was explained and discussed, including 'scoping' key issues, data gathering, EIA investigations, identifying potential impacts through discussion with 'rightsholders' including communities) and avoiding and reducing negative impacts. This requires public participation and meaningful consultation, ideally based on the draft Myanmar EIA public participation guidelines.
Participants discussed the planned projects in Kyaukphyu area, including the Special Economic Zone (SEZ), deep sea port, as well as a planned Offshore Supply Base (OSB) by MCM company. The EIA for the planned OSB in Ngayokekaung, Ayeayrdwady Region, the first one for an OSB so far submitted to Environmental Conservation Department (ECD) by Myint & Associates was shared as an example. Participants were shown the Ngayokekaung Environmental Compliance Certificate issued by ECD, including the general conditions, environmental performance standards, environmental management conditions, monitoring and reporting, specific conditions and project commitments, as well as grievance mechanisms. Participants also did some stakeholder mapping and community mapping.
Participants raised their hopes and concerns about the SEZ and the OSB, including hopes for improvements in roads, education, electricity, living standards, and health care as well as concerns related to fisheries, environmental effects, biodiversity, as well as cultural and social impacts.
---
Read also