The Business Case for Diverse, Respectful and Inclusive Workplaces, and How to Build Them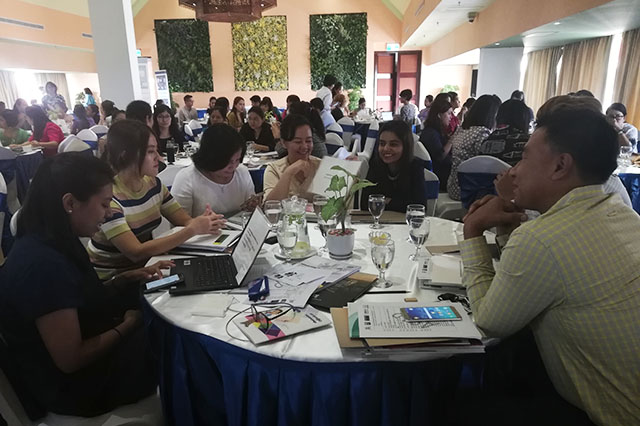 MCRB held a one-day workshop on 7 May intended to provide Myanmar and foreign businesses with practical advice on how to promote diverse, respectful and inclusive workplaces, free from bullying, harassment and discrimination against employees and customers.
It was attended by around 112 participants from companies, consultancies, government, development partners and NGOs. It was the fourth of its 'responsible business seminars', and was held in partnership with IFC, DaNa Facility, Nestle and Chevron. The workshop was based on a recognition that discrimination cannot be ended by governments alone. Businesses can foster diversity and promote a culture of respect and equality both in the workplace and in the communities where they and their business partners operate. Through doing so in Myanmar, they can foster the growth of a more peaceful, inclusive, and tolerant nation, consistent with the objectives of 2018 Myanmar's Sustainable Development Plan.
Participants were initially polled on their organisation's commitment to equality and non-discrimination, with the majority stating that there was such a commitment, but the main factors inhibiting successful implementation were lack of awareness and knowledge of steps to be taken, societal attitudes, and attitudes of co-workers. Another factor was the attitudes of leadership/manager. Half of those present said they had formal grievance or whistle-blowing mechanisms to lodge complaints of grievances concerning discrimination.
Three pieces of recent research on the issue in Myanmar workplaces was presented by IFC/DaNa, ILO/H&M (supported by Swedish SIDA) and Colors Rainbow. Paul Joicey, Director of Programmes from DaNa Facility introduced the findings of the report on Respectful Workplaces: Exploring the Costs of Bullying and Sexual Harassment to Businesses in Myanmar, undertaken by IFC's Gender Secretariat in partnership with the DaNa Facility, based on a survey in 39 organisations in late 2018 and launched in March 2019. Detailed results of the findings of the study was shared in the afternoon session led by IFC.
Hla Myat Htun, Deputy Director from Colors Rainbow, an organization promoting human rights for LGBTI community, shared the findings of the Baseline assessment of the situation of LGBTI people at workplaces in Yangon conducted by CR between November 2017 and January 2018 (with similar research conducted in Mandalay). Findings showed that there was limited knowledge of LGBTI rights and deep-rooted stereotypes, which inter alia limited access of LGBTI people to employment opportunities. Colors Rainbow advocate more awareness of LGBT equality, and seek company leadership, and support to adopt HR policies to ensure inclusion of diversity among employees. (Colors Rainbow and MCRB are collaborating on a campaign to encpouorage companies to support LGBT equality on 17 May, IDAHOT, the international day against homophobia, transphobia and biphobia, by flaying the rainbow flag. CR can also provide free training to companies to raise awareness about LGBTI rights among their staff).
Tobias Fischer, Myanmar Country Manager of H&M briefly presented the findings of Weaving Gender: Challenges and Opportunities for the Myanmar Garment Industry, a research project supported by H&M, the ILO and Swedish International Development Agency (Sida) which involved a gender-equality assessment (GEA) in 16 Yangon-based factories in Myanmar's garment sector. He encouraged companies to acknowledge that workplace bullying and harassment is a problem and to get external expertise support, to take actions and monitor progress and failure. He underlined the business case for doing so: talent retention, and fostering diversity, innovation and productivity, as well as the moral case.
Aung Naing, Human Resources & Administration from TOTAL E&P Myanmar shared their "Practical Guide to Dealing with Religious Questions". Given Total's diverse workforce and global operations, the guide had been developed to help managers and employees properly address and respond to the question of religious expressions and cultural practices at work, with the aim of promoting one of TOTAL's core values: "Respect for Each Other".
Holly Bostock, Corporate Affairs Director, Heineken Myanmar explained how they had embedded their global social media policy into their operations in Myanmar. This had involved training Human Resource Managers and employees. The policy is intended to be positive, rather than restrictive. It encouraged employees to share good news about the company and promote the company's value concerning respecting for each other. When employees failed to comply with the social media policy, for example by posting discriminatory comments, she described how company management took action – which could extend to disciplinary action – but she also stressed the value of peer pressure.
Vicky Bowman, MCRB Director, moderated a panel discussion on "how businesses create equal and inclusive workplaces, inside and outside Myanmar". Panelists included Rajesh Ahuja, Chief Executive Officer of ANZ Myanmar Branch who shared ANZ's commitment to accessibility by making their products, services, workplace and culture accessible to employees with disability and customers with disability, and how they promote workforce diversity including for LGBT employees, and persons with disability. Jonathan Perry, President of Unocal Myanmar Offshore Co., Ltd, also explained how they support diversity and inclusion at workplace including their program on Men Advocating Real Change (MARC) adopted in 2016. He emphasized the importance of face to face communication and establishing personal relationship among colleagues to foster better understanding and respect for each other.
Kyawt Kaythi Win, Country Director, Myanmar Business Coalition on Gender Equality, MBCGE explained about the establishment of MBCGE and how their six founding Myanmar company members (FMI, City Mart, Shwe Taung Group, AYA Bank, KBZ Group & Parami Energy) had made a commitment to aim for certification under EDGE(Economic Dividends for Gender Equality) which had helped them diagnose and address gender equality issues in their companies. She hoped that the MBCGE would one day be a business coalition to promote cover all forms of equality including persons with disability, LGBTI etc. She encourage companies, both Myanmar and international, to join the coalition, even if they did not intend to go as far as seeking EDGE certification. Pwint Phyu Han, Group Chief People Officer, City Mart Holding Co.Ltd (CMHL) shared how they have been striving to promote a diverse and inclusive workplace by adopting strategies to align with City Mart's core values. To do this, they encouraged an open and constructive dialogue among their staff and senior management to share innovative ideas and raise any concerns. They had recently adopted their second sustainability report covering 2018, which inter alia addresses working conditions and talent management under 'People'.
The afternoon session is began with a more detailed presentation by Dean Laplonge, Factive Consulting of the findings on Respectful Workplaces: Exploring the Costs of Bullying and Sexual Harassment to Businesses in Myanmar.
Ellen Maynes, Operation Officer, Gender Department, IFC and Hnin Nwe Nwe Aung, Gender Coordinator, IFC led interactive discussions including group discussions, role play and provide tips on how to start the conversation with the management to adopt and apply respectful workplace policies and practices.
Wrapping up, MCRB highlighted MCRB's resources relating to non-discrimination at workplace including the 2017 Briefing paper on Combatting Discrimination by Business and in the Workplace (available in EN and MM) as well as the Handbook for Employers on promoting employment for people with disabilities (in EN and MM) launched by the Vice-President in December 2018, in partnership with MCRB, AAR Japan and the Myanmar Federation of People with Disabilities and the Myanmar translation of the 2017UN Standards of Conduct for Business in Tackling Discrimination against LGBTI people.
Earlier workshops in the responsible business series have addressed responsible business due diligence (July 2018), Decent work: Employment, working conditions, industrial relations and unacceptable forms of work (September 2018), and combatting corruption (December 2018).
---