A Reformed Telecoms Law is Needed to Protect Freedom of Speech and Privacy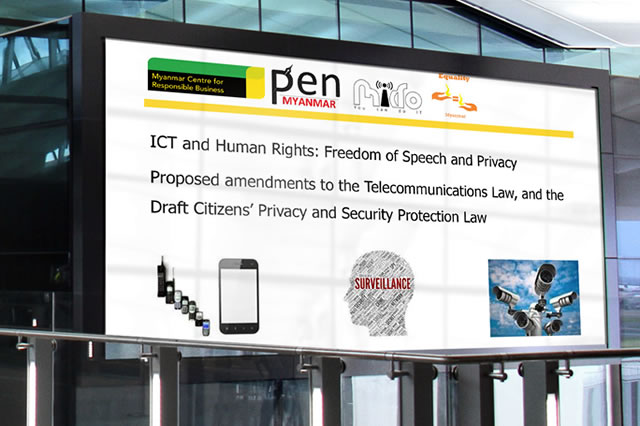 MCRB has been working with other civil society organisations such as Myanmar PEN, Myanmar ICT Development Organisation (MIDO), Equality Myanmar as well as former political prisoners and international experts on human rights to engage with government and Parliament to identify specific reforms needed to address weaknesses in the protection of the right to freedom of expression and privacy in existing and proposed laws, as well as duplicatory and inconsistent provisions.
Of particular concern are provisions in the existing 2013 Telecommunications Law, such as Section 66(d). Also of concern is the proposed Citizens' Privacy and Security Protection Law which lacks appropriate provisions relating to court and parliamentary oversight.
The below presentation sets out some of these issues, which were also identified as problematic in MCRB's 2015 ICT Sector-Wide Impact Assessment. MCRB plans to work further with other stakeholders including Parliament, with the aim of obtaining reformed laws which implement the Myanmar government's 'Duty to Protect' and its commitment to human rights.
---
Read also