Findings from the Mining Sector-Wide Impact Assessment Presented in Geneva and KL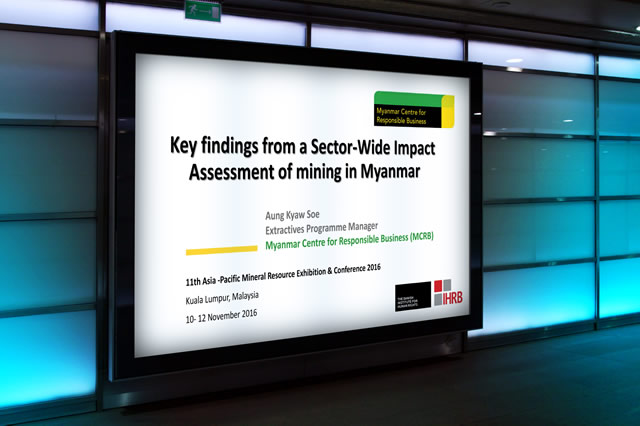 Aung Kyaw Soe, MCRB's Extractives Programme Manager, presented findings from the Sector-Wide Impact Assessment (SWIA) of Mining in Myanmar and its main recommendations to the Asia Pacific Mineral Resource Exhibition and Conference (APMREC) 2016 in Kuala Lumpur, Malaysia on 10-12 November.
APMREC was organized by the ASEAN Federation of Mining Associations (AFMA) and hosted by the Malaysia Chamber of Mines (MCOM). The theme of the conference was Advances in Safe, Sustainable, Green and Responsible Mineral Resource Development. It was attended by around 150 participants including senior representatives and policy makers from the ASEAN Member States, companies, NGOs and Universities from Singapore, Malaysia, Hong Kong, Australia, Philippine, Indonesia, Myanmar, China, Vietnam, and South Africa.
On 14 November Aung Kyaw Soe also shared the SWIA experience and methodology at the 5th UN Forum on Business and Human Rights in Geneva, in a session attended by around 200 participants titled "Lessons from the field when implementing human rights impact assessments". He highlighted how a SWIA differs from project-level human rights impact assessments and how to build capacity of the assessment team and role of local facilitators as part of the assessment in Myanmar.
Part-1 of the session was moderated by Sarah Zoen from Oxfam. Six speakers from Mexico, South Africa, Brazil, Colombia and Myanmar contributed their experiences implementing human rights impact assessments. Part-2 of the session involved four breakout groups who discussed dealing with divisions in the community, and other challenges.
Some 2,500 participants attended the Forum, from academia, business, consultancies, law firms, industry associations, civil society organizations, affected stakeholders, trade unions and indigenous peoples groups, multi-stakeholder initiatives, national human rights institutions, professional association, media, government, UN/Intergovernmental Organization and others.
---
Read also