Employment of Persons With Disabilities, and Quotas – What Makes Sense For Myanmar?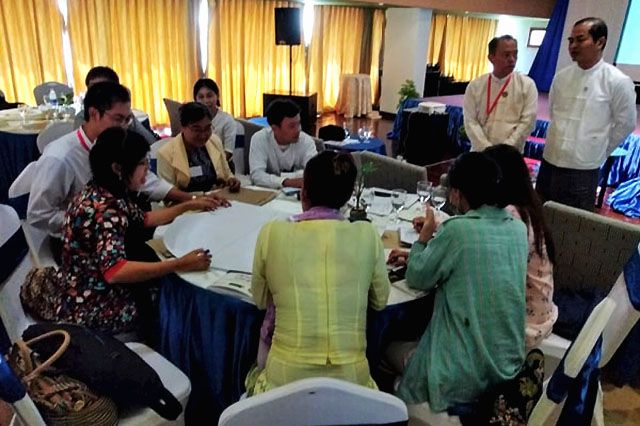 On 15 February, MCRB, together with AAR Japan, and Japan Heart, held an orientation discussion based on MCRB/AAR Japan's policy options paper (EN and MM) at Rose Garden Hotel, with the support and full participation of the Chair of the Employment Sub-Committee, Director-General of the Department of Labour, U Win Shein, who gave the opening remarks.
The meeting was attended by over 120 participants, including company bosses and human resources managers from Yangon's industrial zones and other companies (34%), persons with disabilities and organisations representing them (24%), and government officials (28%) from a range of departments including Ministry of Labour (MOLIP), Ministry of Social Welfare, Ministry of Education and the Union Attorney-General's Office.
The meeting was an opportunity to discuss the policy options paper on disability employment and quotas which MCRB and AAR Japan had circulated (EN and MM). Hnin Wut Yee summarised the paper, and also referred to additional research conducted globally by the International Labour Organisation (ILO) and published in 2019 which finds that 103 countries have quotas, many of them combined with non-discrimination legislation.
The presentation (EN and MM) also highlighted how other countries had implemented compulsory quotas, and the positive incentive measures they had taken. She noted that the two substantive comments received to date, both from international experts with experience of Myanmar and quota systems elsewhere, had advocated against focussing on quotas, and instead encouraged priority to be give to accessibility measures, training and positive incentives.
In addition to MOLIP, other government departments presented current activities . Dr Tun Zaw, DDG of the Department of Rehabilitation, Ministry of Social Welfare, which leads on Myanmar's implementation on the 2015 Law protecting the Rights of Persons with Disabilities and his colleague Deputy Director Dr Myo Myat Maung, who has 100% visual impairment from a landmine injury, spoke about the work of the Sub-Committees on Accessibility/ICT, and on Monitoring and Evaluation. Dr Myo Myat Maung also showed photos of recent work to improve accessibility of Naypyidaw market, and a park fountain. On a personal note, he explained how the government's policy of ensuring employment for military personnel who acquired disabilities from their duties had facilitated his re-employment by the Department of Rehabilitation where assistive technologies such as the recently developed Myanmar UNICODE font text-to-speech screen-reader allowed him to continue to work as a civil servant.
Daw Tin Yu Yu Aye of the Ministry of Education shared information on accessible schools, and another colleague spoke on inclusion of trainees with disabilities in their recent technical and vocational education courses. Dr Nanda Aung, Social Policy lead of UNICEF Myanmar skyped in to present from Hpaan on the pilot process for registration of persons with disabilities which is being trialled in Hpaan, Hlaingthaya and Nyaunglebin (see video).
The registration process, which is essential for most programmes intended to support persons with disabilities (including an employment quota) is led by the Ministry of Health and Sport with support from UNICEF has involved discussions with a number of local organisations including those focussed on support for Myanmar people with Down Sydnrome, autism, hearing and visual impairment and other forms of disability. Currently the programme is training trainers of registrars across the three townships. Lessons would be learned from the pilot studies, but no timeline was available for national rollout of registration.
Representatives of a number of disability organisations includingthe Chair and General Secretary of the Myanmar Federation for People with Disabilities (MFPD), the Yangon MFPD Committee, and Abilis all contributed views, as did senior businessmen from several Industrial Zones. Two-thirds of participants said that their organisations employed persons with disabilities, and around 27% did not, with others not sure.
Participants were invited to comment on the biggest challenges for promoting employment of persons with disabilities. Although all issues were identified as a challenge, the biggest problem was identified as 'employer attitudes' (3.8 points out of 5), including a lack of awareness of the law banning discrimination, and of the capabilities of workers with disabilities.
1st= Employer attitudes (3.8)
2nd= Inaccessible public transport (3.6)
2nd= Lack of qualified candidates (3.6)
4th= Lack of registration system (3.1)
4th= Lack of assistive technology (3.1)
6th= Family attitudes (2.8)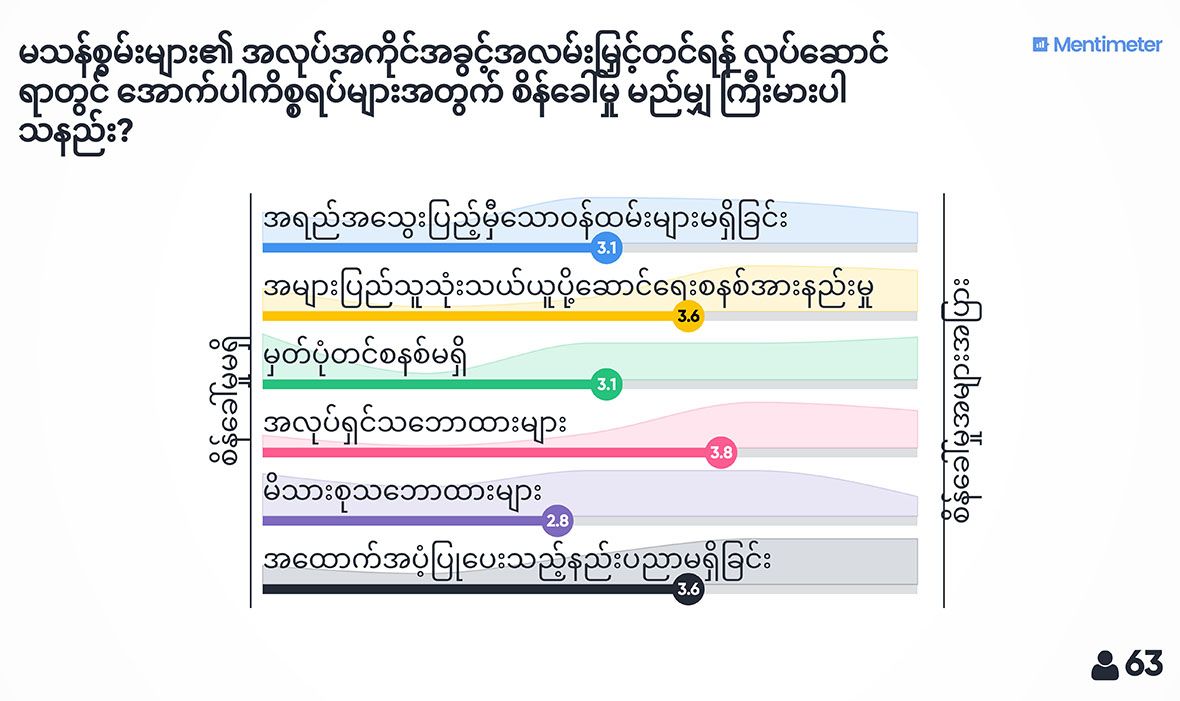 In breakout discussions, solutions to these issues were discussed in mixed groups, and action points identifed to feed into a 10-year strategic plan for Myanmar intended to reflect theASEAN Enabling Masterplan 2025: Mainstreaming the Rights of Persons with Disabilities.
On the question of whether the introduction of compulsory quotas would increase employment of persons with disabilities, 53% of the participants thought so, with particularly strong support from persons with disabilities themselves, one of whom commented that without there being a plan to introduce quotas, most employers, including HR managers, would not take seriously any awareness-raising activities undertaken by government or others. Six percent of those polled did not believe that quotas would lead to an increase in employment, with 40% declaring themselves 'unsure'. Again, there was strong support for early action on quotas, with 55% of participants keen to see action before 2023 and 11% opting for 2024 onwards. However 29% of participants believed that compulsory quotas should only be introduced if an approach based on active encouragement and non-discrimination was shown to have failed, and 5% did not believe that a compulsory quota would ever be a good solution for Myanmar.
A follow-up meeting is planned in Naypyidaw with government departments, prior to discussion in the Sub-Committee.
The Policy Options paper remains open for comment. Please send comments to myint.naing.kyaw@myanmar-responsiblebusiness.org.
---
Read also