Planning for a Brighter Future in Mrauk U: Cultural Heritage and Tourism Management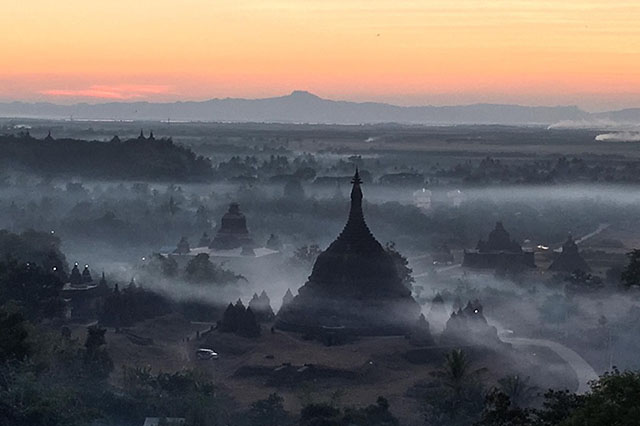 On 10/11 July, MCRB and UNESCO Myanmar office facilitated a multistakeholder discussion on sustainable management of tourism in Mrauk U at Sedona Hotel Yangon. Around 45 people participated from government, civil society and business in Mrauk U (Rakhine State), as well as tourism and culture academics and experts, including in human resources development and community based tourism.
The intention of the discussion was to support local communities in Mrauk U to plan for sustainable tourism to promote inclusive social and economic growth in Mrauk U while ensuring the effective protection of its cultural heritage assets. The discussion took place in the context of proposal in Dr Kofi Annan's Rakhine Advisory Commission that the Government of Myanmar should "continue its collaboration with UNESCO and other international partners to ensure Mrauk U's eligibility as a World Heritage Site", noting that World Heritage designation (as recently awarded to Bagan) would offer Mrauk U international recognition and visibility which in turn could potentially lead to increased tourism and economic development. World Heritage Nominations now need to include a Tourism Management Plan. The Government of Myanmar has previously stated its intention to finalize the draft Nomination by September 2019.
There was widespread recognition from all participants that the current security situation and the ensuing humanitarian crisis did not provide an enabling environment for the development and implementation of a tourism plan for Mrauk U. It was noted that tourism in Mrauk U is currently practically non-existent as a consequence of the security situation, which has directly and indirectly, led to the lack of international and Myanmar visitors. This is seriously affecting the livelihoods of the people of Mrauk U and surrounding areas, with significant humanitarian impact.
The introductory speeches from Min Jeong Kim, the UNESCO Myanmar representative, as well as those by the Site Manager for Mrauk U, Dr Than Htike from the Department of Archaeology, and the Deputy Director from the Ministry of Hotels and Tourism in Rakhine State, U Moe Aung, all stressed that the workshop was therefore an opportunity to plan for economic and tourism development after this serious situation was resolved, rather than promote Mrauk U. Michele Romano of UNESCO outlined how UNESCO world heritage listing was linked to Tourism. Daw Khin Than Hin and Dr Tin Mar Aung gave an update on the current status of Mrauk U.
MCRB Director Vicky Bowman's presentation highlighted the current consular travel advice from most governments which either advised against all travel to Mrauk U, or all but essential travel. She explained that this meant that travel insurance was often invalid and tour operators did not offer the destination as a result. Furthermore, the open ended internet shutdown impacting Mrauk U as well as eight other townships in Rakhine and Chin State was a direct impediment to local businesses, including in tourism, as well as a safety issue.
While this clearly demonstrates that conflict directly affects tourism, Vicky also added that tourism can also cause conflict. She drew attention to the bilingual 'Do No Harm' Conflict Sensitivity Toolkit produced by the Business Innovation Facility's tourism programme in Myanmar which had been used for training for tourism projects in Shan State. This included a case study of how regulation could create conflict, namely the requirements under a Tourism Directive under the previous law for all 'guesthouses' licenced to host foreigners to have at least ten rooms. This was a source of conflict since it promoted the interests of outside investors over local people who might not – at least initially - be able to invest in a ten room guesthouse. She recalled that Recommendation 8 of the Rakhine Advisory Commission had said that "the Government should address regulatory issues that currently constrain SMEs and family businesses, which include removal of the Ministry of Hotels and Tourism prohibition on guesthouses and B&Bs of less than ten rooms, that presents barriers to entry for family-owned enterprises". She noted that the opportunity existed to do this in the draft regulations under the 2018 Tourism Law (whose outline was presented by Win Min) but that MoHT had yet to recognise this.
Vicky also strongly advised against establishing a 'hotel zone' in Mrauk U as opposed to a 'zoning' approach with a diversity of accommodation choices. She noted that the hotel zones in Inle Lake and Tada Oo developed under the U Thein Sein government had driven conflict, been environmentally damaging, commercially misguided and ultimately unsuccessful. The hotel zone in Siem Reap (near the Angkor Archaeological Park), although better established to accommodate the 2.6 million visitors, lacked authenticity and was divorced from the local culture.
The two day conference discussed a variety of issues relating to the multiple legal frameworks around protecting Mrauk U's cultural heritage and ensuring local economic benefits from sustainable tourism. Also discussed was the need for infrastructure – particularly a budget to support the completion of the new airport (located outside the proposed buffer zone) – as well as opportunities for community involvement in tourism. MCRB shared the results of the four national conferences on Communities and Tourism it had organised with others, most recently in Loikaw in June 2019, and in June 2018 in Kalaw.
The discussions also brought the visitors from Mrauk U in contact with tourism experts including senior Yangon-based members of the Myanmar Tourism Federation (MTF), Union of Myanmar Travel Association (UMTA) and Myanmar Tourism Marketing (MTM). Also shared was the 2017 Rapid Value Chain Assessment of the tourism sector in Mrauk U prepared by the ILO. Kyaw Myo Win, site manager of Sri Ksetra shared his experiences of managing tourism since it had become the first World Heritage Site in Myanmar, as one of the Pyu Ancient Cities.
Prior to the conference, UNESCO had supported a group of over ten stakeholders from Mrauk U to visit Kalaw and Inle to meet the Kalaw Tourism Organization (KTO) and learn about management of tourism in Kalaw, which was chosen because of its inherent ethnic and cultural diversity, and unique, collaborative multistakeholder approach to destination management and marketing by the Kalaw Tourism Organisation.
With additional support from Inle Heritage, participants were also able to visit Inle Lake to observe and discuss the environmental and heritage impact of tourism. These examples were discussed in the workshop, and participants drew lessons from them for future Mrauk U tourism management.
One question raised by many participants that required further discussion was the need not only for a destination management approach in the Tourism Management Plan, but also whether the overall Management Plan required an overall cross-government 'authority' that could oversee and regulate the various legal frameworks. Such an authority had been established for the Angkor Archaeological Park, the Apsara Authority. It was agreed that this needed further consideration, including learning lessons from other World Heritage cities such as Luang Prabang, Georgetown (Penang) and Hoi An. This will be explored in future multistakeholder discussions.
A report of the workshop and of the study trip to Kalaw and Inle are available here.
---
Read also