MCRB Invites Comments on its Draft Strategy on Disability Rights and Business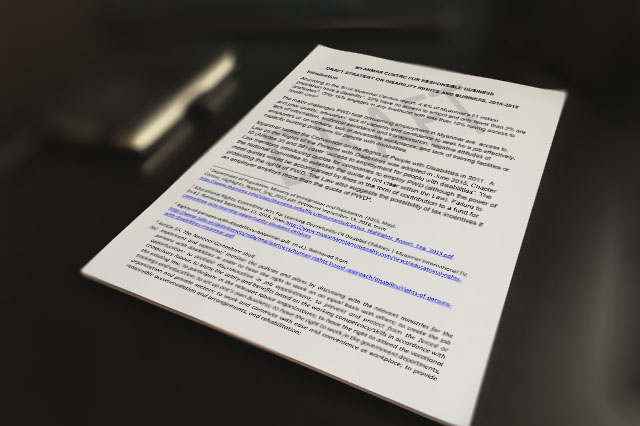 MCRB has put together a draft strategy for promoting disability-confident and inclusive business in Myanmar in the 2016-18 period.
The draft strategy is available in English and Burmese. We welcome comments from interested stakeholders to .
Vicky Bowman and Hnin Wut Yee had an initial meeting on 26 October with the Myanmar Federation of People With Disabilities (previously called Council) to discuss cooperation. MCRB will discuss the strategy further with the Federation's Employment Sub-Committee.
The draft strategy includes details of relevant activities which MCRB has undertaken since 2014. A recent example was the discussion, co-chaired by Vicky Bowman, between the Australia-Myanmar Chamber of Commerce Responsible Investment Working Group and two DPOs, Shwe Mintha, and MILI, to identify how business could be more inclusive of people with disabilities. This also drew on lessons from KBZ's outreach to provide job opportunities.
The forward strategy identifies potential areas where MCRB might work with Disabled Peoples Organisations (DPOs) and business. This includes support for a multistakeholder approach to the implementation of the Chapter 10 (Employment) of the June 2015 Law on theRights of the Persons with Disabilities. The aim should be to achieve an approach, drawing on experience from other countries, which is credible to both business and PWDs which will support people with disabilities in accessing employment opportunities and work towards ending discrimination.
MCRB's future work will draw on the Centre's strategic partnership with Business Disability International (bdi). MCRB will also work closely with organisations like the ILO who, with the encouragement of MCRB, have included targetted interventions increased awareness and capacities to address workplace discrimination and ensure decent work for women, persons with disabilities and other target groups as part of their framework for future engagement with Myanmar.
---
Read also