MCRB Holds Workshop for Business on Operational Grievance Mechanisms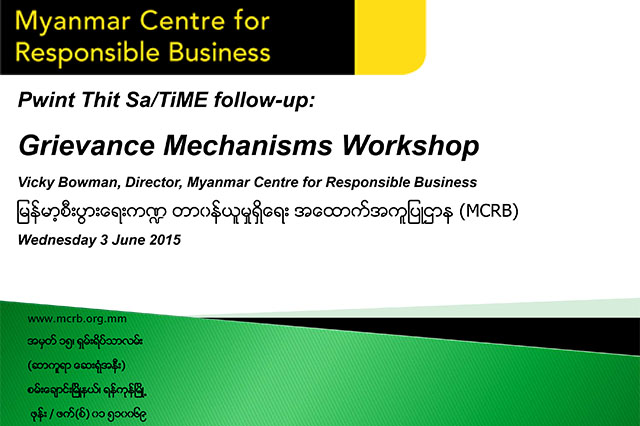 MCRB held a "Workshop on Developing an Effective Grievance Mechanism for Your Company" in Yangon on 3 June 2015 to follow up on the Transparency in Myanmar Enterprises (TiME)/Pwint Thit Sa report. This was the fourth of a series of workshops, previous ones being on anti-corruption, human rights policy and human rights reporting.
Companies attending included KBZ Bank, Hutchinson Global Communications, KMD Co. Ltd, Myanmar Business Executive Association, Shwe Taung Group of Companies, Consumer Protection Association of Myanmar, Authentic Myanmar, Yoma Strategic Ltd, Ball Asia Pacific, Max Myanmar, Wanbao Mining, Myanmar Garment Manufacturers Association, CNPC Southeast Asia Natural Gas Pipeline Co. Ltd., Nestle, SKO Myanmar, SMART Technical Services, SST Tours, Dagon International Ltd. and A1 Group of Companies. PeaceNexus and Spectrum were also present for part of the workshop.
The workshop focused on:
What a grievance mechanism is, and why a business should have one

The similarities and differences between grievance mechanisms and whistleblowing

International standards and good practice for grievance mechanisms

Examples of grievance mechanisms from other companies

The viewpoints of potential stakeholders for a grievance mechanism from civil society organizations working with communities, workers and consumers in Myanmar

How to develop a grievance mechanism to meet the needs of stakeholders
Jon Barnes of IHRB spoke on international standards on remedy and the importance of grievance mechanisms.
Earth Rights International's Jessica Spanton presented on some examples of existing Operational Grievance Mechanisms
The workshop also heard from Anastacia Howe on Myanmar Petroleum Resources Ltd (MPRL) E&P's experience with grievance mechanisms in Myanmar
Other representatives of civil society organizations, Thurein Aung of Action Labor Rights, Ma Nu of The 88 Generation, and Soe Kalyar Htike of Consumer Protection Association of Myanmar also spoke on civil society experiences working with companies concerning grievances against relating to labour, land, and food safety.
---
Materials provided to the workshop included a translation of sections of IPIECA's Good Practice Survey on Operational Level Grievance Mechanisms:

---
Read also