Virtual Roundtable Discussion with CSOs on Extractives and Inclusive Business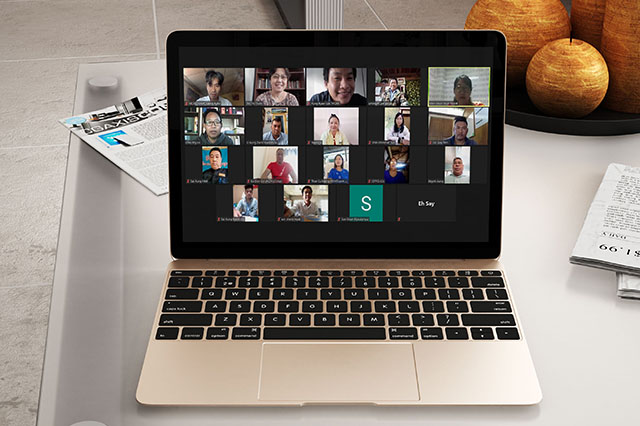 On 26 November 2020, MCRB held its first virtual roundtable discussion series with Civil Society Organizations on "Extractives and Inclusive Business".
The discussion was attended by 20 participants, including 4 representatives from MCRB, 3 representatives from Persons with Disability Organizations (PDOs) and 13 representatives from Extractives. Participants were from Rakhine, Shan, Kayah, Tanintharyi, Sagaing, and Mandalay Region where they work on the core issues of human rights, disability rights, gender, environmental conservation, land and resources rights, mining, transparency, justice, capacity building, and leadership in their respective regions.
The aim of the discussion was to:
Update one another on activities, challenges and successes

Learn from others on how they are addressing challenges, and potentially apply those experiences in their own organizations;

Build relationships between participants for further networking and support, particularly between organisations working on disability and those on investments.
Discussions built on work which MCRB has undertaken, including with Vermont Law School in 2019 to build environmental advocacy capacity concerning investments, as well ongoing MCRB advocacy around disability inclusion, particularly in a business setting.
MCRB updated on recent activities relevant to civil society. This included follow-ups to major studies such as the Sector-Wide Impact Assessments (SWIA), particularly on environmental impact assessment and public participation, biodiversity, business and human rights, wider work on non-discrimination, digital rights, transparency and anti-corruption, including the July 2020 Business Integrity Handbook and the forthcoming 2020 Pwint Thit Sa report.
Other ongoing MCRB work of potential relevance includes a study of private security companies and human rights, and engagement in the drafting of the the National Land law, as well as ideas for bringing together the many government departments who operate 'non-judicial remedy' related to business as well as the Myanmar National Human Rights Commission.
The four speakers from the Center for Environment and Resources Development in Arakan, Sagaing Region Association of Persons with Disabilities, Action Group for Farmer Affair, and Environmental Conservation and Farmer Development Organization (Shan) presented on their activities, challenges and successes. The key issues they highlighted in the discussion were:
local communities in Kyauk Phyu suspected that the water pollution and the impact on marine biodiversity is related to oil tankers

continued approval of mining licenses during the Covid-19 lockdown despite restrictions on public participation

human trafficking to China

land acquisition and lack of understanding of land and mining laws by local communities

language barriers for ethnic communities when communicating with officials

the fact that Free Prior and Informed Consent (FPIC) was still not properly practiced and

ongoing illegal logging in Shan State.
They noted the continued difficulties in participating in the EIA process, which they felt lacked transparency and accountability. They noted that unregistered civil society organisations have faced particular difficulties participating and engaging with government authorities, including on EIAs.
Disability organizations were keen to be involved in the EIA public consultations and having listened to others expressed interest in learning more about the EIA process and how persons with disabilities could be included in the public consultation process.
Disability organisations noted that COVID-19 has made it difficult for them to stay connected as many have limited IT skills and find it difficult to organize online events. They continued to experience a lack of job opportunities and lack of access to information.
Speakers also highlighted two examples of successful civil society advocacy. Support from the regional government for exploration in Wah Sein Taung, Yinmabin township, by Myanmar Yangtse, the company operating the Letpadaung copper mine, had been withdrawn by the Sagaing Government after a demonstration (with police approval). In Shan State, local communities have pre-emptively conducted a customary land mapping with the support of CSOs to ensure that they know the history of the village and surrounding environment. They have also ensured that they understand certain articles in relevant laws so that they can state facts and figures clearly and systematically when talking with officials. As a result, this has saved about 5,000 acres of customary land in their region that was nearly taken over by a project.
MCRB plans a second virtual roundtable in January 2021, and welcomes other civil society groups interested in participating.
Please contact for more information.
---
Read also