What are Sector-Wide Impact Assessments (SWIA)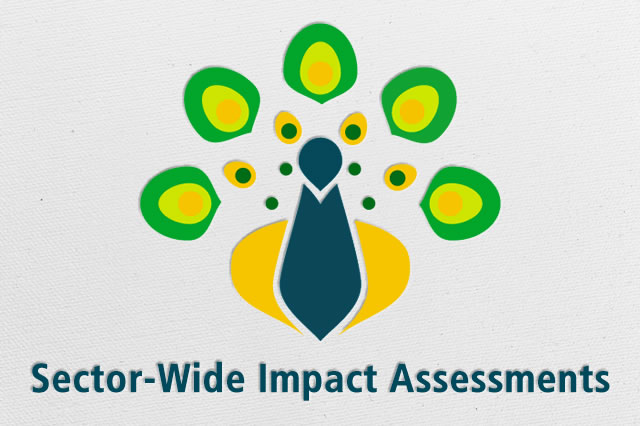 SWIA look at impacts of a business sector through several different levels of analysis in order to build a more complete picture of the potential impacts of the sector on Myanmar society and on its enjoyment of human rights.
WHAT ARE SECTOR WIDE IMPACT ASSESSMENTS (SWIA)?
SWIA look at impacts of a business sector through several different levels of analysis in order to build a more complete picture of the potential impacts of the sector on Myanmar society and on its enjoyment of human rights. A sectoral view will help stakeholders see the "bigger picture" of potential negative impacts, as well as potential opportunities for positive human rights outcomes, and to make choices based on a broader perspective.
HOW DO SWIA RELATE TO OTHER IMPACT ASSESSMENTS?
SWIA differ from project-level impact assessments in a number of ways:
As the name signifies, SWIA look at the impact of a whole sector, which has implications for the scope and analysis of the assessment.
Because SWIA address the impacts of an entire sector, they involve a more in-depth analysis of the relevant policy and legal frameworks, including the implications of these frameworks for businesses operating in the sector.
While project-level environmental impact assessments (EIA), social impact assessments (SIA) or environmental and social impact assessments (ESIA) are typically carried out by or for a project developer, SWIA are intended for a much wider audience: Government and Parliamentarians, business, local communities, civil society, and workers and trade unions.
The MCRB SWIA will focus in particular on impacts on people. They will include, for example, a focus on land and labour rights and other impacts on communities, workers and consumers.
Like other impact assessments:
SWIA will be carried out according to a set of widely-accepted impact assessment steps. The process involves both extensive desk-based research and field research. The SWIA teams will carry out in-depth research on the sector as well as on core cross-cutting issues that will present challenges to most sectors operating in Myanmar such as land acquisition, labour issues, armed conflict, and ethnic minorities. Because SWIA are looking at a whole sector, field-work will be far more geographically widespread than would be the case around a potential project site for project-level ESIA. It will involve field-work in areas of particular relevance to each sector throughout the country.
SWIA ideally should be undertaken before the Government develops its policies and laws relevant to the sector and before companies invest and establish operations, so that the outcomes can help shape policies and operations that can have an impact on workers, communities and consumers. In the Myanmar context, where the development of policies and laws are well under way, SWIA will be analysing existing policies and laws for their implications for responsible business, while also focusing on recommendations for future changes to laws and policies. At the investment level, SWIA will build on experiences from existing projects to develop recommendations for new investments in the sector, which may also be useful to existing operations.
WHAT TYPE OF ANALYSIS WILL BE INCLUDED IN SWIA?
Because they focus on impacts of a sector, SWIA involve assessing actual and potential impacts at several levels. The MCRB is developing tools and approaches for analysing these different levels of potential impact:
National level: Government policy and law will shape many of the impacts that businesses can have within a sector. It is therefore necessary to assess the potential human rights impacts of sectoral laws and policies. The SWIA will develop an analysis framework and apply it across the four selected business sectors to look at the potential direct and indirect impacts of national policies. The framework will be developed drawing from a number of sources, including from poverty and social impact analysis. There is an absence of frameworks for reviewing sectoral, corporate, or other types of laws for their implications for promoting or inhibiting responsible business. The SWIA will therefore develop frameworks for analysing sectoral and related business laws through a new lens.
Regional or State level: Where there are numerous companies from a specific sector operating in the same or contiguous geographic locations or using common infrastructure for example, collective or cumulative impacts may be different and distinct from impacts of any particular company or project. Managing those impacts typically requires company–government cooperation or at least company–company cooperation. The SWIA will seek to help companies and local governments address collective impacts, drawing on regional impact assessment methodology, and develop options for collective action to address these impacts.
Project level: The SWIA will look across a range of projects in the sector and develop an impact registry of "typical" project level impacts, recognising that impacts are often very context-specific. In addition to looking at potential negative impacts from projects in the sector, the SWIA will be cataloguing potential prevention and mitigation steps that can be presented alongside them to give a balanced presentation. The SWIA will also present a catalogue of opportunities to build positive outcomes into a project, identifying steps that businesses can take to improve the development and human rights outcomes of investments in the sector.
WHO ARE THE AUDIENCES FOR SWIA?
GOVERNMENT: As the Government of Myanmar and Parliamentarians develop sectoral policies and laws, they will be making choices about the future direction of the country, balancing potential negative and positive impacts of its choices. Given that each sector is likely to have some adverse impact on society and human rights, the SWIA will seek to provide the Myanmar Government and Parliamentarians with analysis that helps inform policy and law making or licensing in ways that prevent and mitigate harms and enhances positive outcomes. History has shown that too often governments' decisions are made based on overall economic growth potential alone, on economic priorities that fail to account for social costs, and a desire to model other countries. Adequate attention to longer-term impacts on human rights can determine whether growth is equitable, poverty reduced and well-being and prosperity enhanced for the broader Myanmar population. For the Government and Parliamentarians, SWIA will provide an independent analysis of policies and legislation that can act as "drivers" of impacts of the sector.
BUSINESS: Companies will benefit from the SWIA because they will be able to understand the overall potential impact of their sector and their project(s) on the country. SWIA will provide a strategic review of the broader policy and legal frameworks relevant to their sector. They also offer an in-depth look at the potential social and human rights dimensions of typical operations, providing a preview of factors contributing to a sectoral "social licence to operate" and a better understanding of potential human rights impacts at the project level. Businesses will be able to build on the significant information gathering and analysis already done in each SWIA in order to better inform their own impact assessments and thus may be more inclined to incorporate attention to human rights issues in their investments and operations.
CIVIL SOCIETY, AND THE MEDIA: Myanmar has vibrant and resilient NGOs, which are challenging specific projects, and a media which is increasingly covering their impacts. But they may lack the capacity to look at the overall perspective or to understand the international standards that are relevant to investments in the country. The SWIA will help build Myanmar's civil society capacity to participate in policy development and project planning and to leverage international standards and approaches in their interventions. It is hoped that interested local NGOs will track implementation of the SWIA findings, increasing accountability in each sector moving forward.
LOCAL COMMUNITIES: Local communities are often most directly impacted by projects, but may not have the capacity to engage with investors and local authorities, and call on international standards to support their case. SWIA are intended to support them in doing this.
TRADE UNIONS: Myanmar's nascent trade union movement is at the level of the business, and not the industry sector. There are over 600 unions, of whom around 60% draw their membership from farmers, with others based at township or factory-level. The ILO is taking steps to build the capacity of unions but ithis will take time, and given that many of the issues that workers face are likely to be similar across sectors and industries, SWIA should be useful in informing trade union priorities over the medium- and long-term.
DONORS: Foreign governments supporting economic development in Myanmar can use the SWIA to understand better the human rights impacts of key industry sectors on the country, and align their support and policies such that human rights are better respected and protected. This can mean offering technical assistance that helps the Myanmar Government and incentives and disincentives for domestic and foreign businesses to make responsible choices.
WHAT SORT OF ANSWERS CAN SWIA PROVIDE?
SWIA will not be able to guarantee or ensure human rights protection. That requires appropriate laws and enforcement and political will by the Myanmar Government, and commitment and operationalisation of responsible practices by business. What SWIA can do is sensitise planners, decision-makers, businesses and civil society by highlighting the likely risks and impacts of their activities on workers, communities, consumers and society more generally, so that at an early stage steps can be taken to prevent or mitigate risks and amplify gains.
Draft Planning for Sector-Wide Impact Assessments (SWIA) - As of August 2013)
---
Read also