Responsible Business and Disability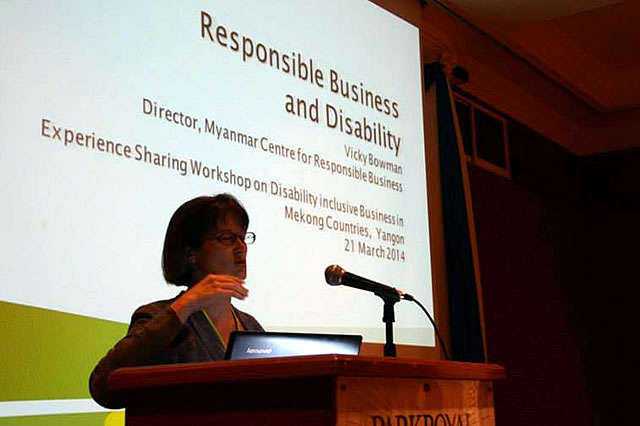 Vicky Bowman made a presentation about responsible business and disability to the Experience Sharing Workshop on Disability Inclusive Business in Mekong Countries on 20/21 March.
The workshop was organised by the Myanmar Independent Living Initiative (MILI) and Nippon Foundation. It heard inspiring stories from a number of disabled entrepreneurs from the region.
Vicky's presentation focussed on the responsibilities of mainstream business to respect and promote the rights of people with disabilities and not to discriminate against them as employees, customers and business partners, and how these responsibilities were playing out in Myanmar.
MCRB helped MILI make contact with a number of foreign and locally owned businesses, who have expressed interest in working together with MILI to enhance opportunities for disabled people in the workplace.
---
Related:
Workshop on Disability Inclusive Business in Mekong Countries - Myanmar Independent Living Initiative
---
Read also