Reinforcing Connections Between Business, Biodiversity, and Human Rights Impacts in Myanmar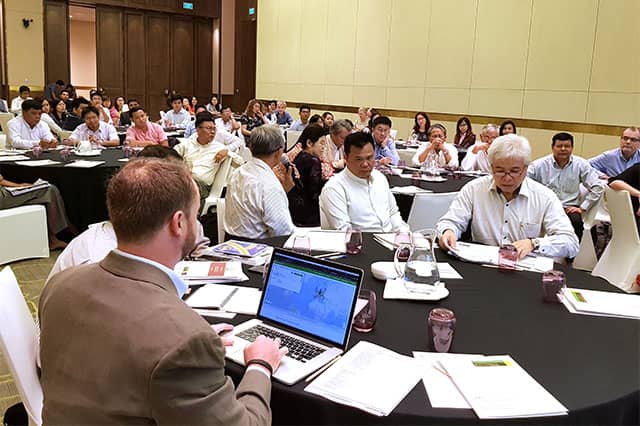 MCRB with support from the Helmsley Charitable Trust has been seeking to build understanding of the links between business, biodiversity, and human rights in Myanmar, particularly the right to livelihood, with the aim of raising awareness of how to avoid, reduce, mitigate and offset these in business activity.
A draft Briefing Paper has been written together with Ms Sally Johnson of Fairfields Consulting and comments are currently being incorporated in this prior to translation. It will be accompanied by short supplements on biodiversity impacts of the oil and gas, mining, tourism and agriculture sectors. MCRB welcomes further inputs to this paper and sectoral supplements, including details of relevant Myanmar-based initiatives, particularly those contributing to great availability of biodiversity data. Please send any inputs – including photographs (credited) for use in the report where available - to , as soon as possible.
On 19/20 March, two biodiversity, business and human rights events were organised by MCRB in Yangon: a multistakeholder consultation on the draft Briefing Paper, and a training session conducted by a number of international experts on biodiversity and environmental impact assessment (EIA) for around 70 representatives from companies, particularly EIA consultancies.
MCRB also used these discussions to draw attention to the biodiversity impacts of single-use plastic such as straws and plastic bags, such as impacts on turtles. A new grassroots initiative called Thant Myanmar (Clean Myanmar) is seeking to bring together local environmental conservation initiatives involving plastic waste, in the run-up to, and after World Environment Day on 5 June, which this year is focussed on 'beating plastic pollution'.
The multistakeholder consultation in Yangon was attended by around 50 stakeholders from business, NGOs, EIA consultants, academia, and government department. Vicky Bowman presented on behalf of Sally Johnson and summarised the main elements of the draft Briefing Paper. Participants welcomed these and highlighted the importance of:
conducting and publishing accurate and well-researched EIAs which reflect the actual situation and highlight potential negative impacts, something project proponents i.e. investors are reluctant to let EIA consultants do. This problem was identified as the biggest challenge for EIAs in Myanmar in a November 2017 workshop for EIA consultants.

assessing cumulative impacts on biodiversity, which was already a requirement in the Myanmar EIA Procedure, and the need for collaboration between companies on this

undertaking baseline assessments and sharing data from these with the regulators and environmental NGOs to support conservation efforts. Good baseline data is also an insurance policy for companies to provide the evidence of where negative impacts on biodiversity precede a project. Opportunities for marine biodiversity baseline data gathering and sharing were highlighted in the oil and gas sector, noting that such data would help the Myanmar better address emergency situations, like oil spills.

partnerships between the private sector and environmental NGOs, which can start with data sharing

identifying and mitigating the impact of the growing number of Myanmar tourists on sensitive environments
In the 19 March workshop attended by around 70 EIA consultants and company representatives, lack of knowledge and training, and legal provisions were identified in polling as the main challenges for identifying and addressing biodiversity impacts in EIAs (31% respectively). This was closely followed by lack of guidance from the government (25%). Local communities were considered the most useful source of biodiversity information by 69% of those polled, with 31% identifying NGOs, and no-one identifying government sources as most useful.
Polling results also showed that 68% of participants thought that biodiversity was not covered well in Myanmar EIAs. Hanna Helsingen (WWF) and Mathew Baird, an environmental lawyer, then shared their experience of working with the Environmental Conservation Department (ECD, MONREC) to review EIAs, including for assessment of biodiversity impacts is handled. Some case studies of bad practice were provided, with recommendations for better practice. Points raised included the need to recognise not only biodiversity values of Protected Areas and intact forest, but that even degraded landscape has biodiversity that needs to be assessed and protected with measures that actually work and reduce landscape fragmentation. One example of a poor mitigation measure was tunnels under roads which had been built too low for elephants to use.
Matthew Baird then presented on behalf of Sally Johnson on how to better incorporate Biodiversity into EIAs, from the initial screening stage to post submission monitoring. It was noted that the emphasis should be on avoidance, and offsets should only be considered as a last resort. Matthew also covered international standards and in particular IFC Performance Standard 6 on (PS 6) on Biodiversity Conservation and Sustainable Management of Living Natural Resources (2012) (also available in Burmese). (The importance of IFC PS6 as the most useful reference standard for EIAs and companies was reinforced by other speakers).
There was a discussion on the challenges local EIA consultants face when searching for such data and processing it, and the need to work with MONREC to ensure that government officials know where to look for data when processing EIAs. Alex Diment (Wildlife Conservation Society) presented on Myanmar and international online data sources (paid for, and free) for biodiversity data from Myanmar, including how to use them and avoid incorrect information.
Concerning sectors, polling showed that 59% of participants thought that mining had most negative impacts on biodiversity. David Nicholson (ERM) explained how biodiversity is covered in the extractives sector, including mining, and how to define residual impacts. He offered examples of how to mitigate and offset these.
Other sectors of relevance to Myanmar and ongoing EIAs were covered, namely oil and gas, tourism and hydropower. Iain Dixon (XODUS) addressed the key impacts and mitigation strategies for the offshore oil and gas.
Vicky Bowman (MCRB) identified tourism impacts on biodiversity and highlighted relevant Myanmar legislation and the various guidelines available to address them. She particularly highlighted the sensitivity of island-based tourism projects in the Tanintharyi archipelago and the weaknesses observed in submitted EIAs concerning alternatives analysis for such projects in which impacts on coastlines and reefs, and freshwater water supplies were the major problems. Alternatives should include not a simplistic Go/No Go but also downsizing of development plans, and measures to address water consumption and coastal damage, such as not using beach walls.
Kate Lazarus (IFC, Hydro advisory) gave an update on the hydropower EIA guidelines being developed for government by the IFC, and the Strategic Environmental Assessment (SEA) of the sector in Myanmar, highlighting how undertaking an early SEA can be useful to provide a framework to identify and avoid potential cumulative impacts on landscapes.
The workshop concluded with Aung Nanda, Chairman of the newly formed Myanmar Impact Assessment Association (MIAA) explaining the purpose and the objectives of the Association. More information can be found on their Facebook page. MCRB welcomes the formation of the Association, and hopes to work with them on future capacity building for EIA consultants, in collaboration with MONREC, and other development partners.
MCRB is also available to facilitate discussions with and provide training to civil society organisations, Parliamentarians, government officials and companies on aspects of the Myanmar legal framework and international standards relating to promoting responsible investment and managing its environmental and social impacts. Please contact MCRB if you are interested in pursuing this opportunity .
Read also