Community Engagement with the Private Sector - How to be Effective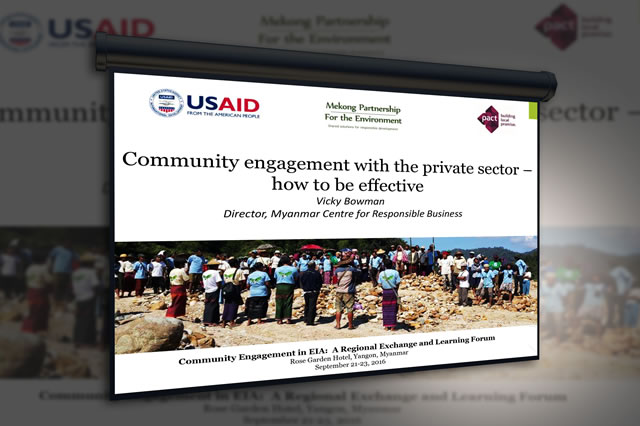 Vicky Bowman was a keynote speaker at the "Community Engagement in EIA: A Regional Exchange and Learning Forum" arranged by PACT/Mekong Partnership for the Environment in Yangon on 22 September.
Around 40 participants attended predominantly from civil society organisations in Myanmar, Laos, Cambodia, Vietnam and Thailand. Vicky's presentation offered some thoughts on how communities and civil society organisations could be effective at engaging with companies. These suggestions were based on her previous career experience at Rio Tinto, and also observations of successful, and unsuccessful, community-company engagement in Myanmar.
Aung Kyaw Soe, MCRB's Extractives Programme Manager, also shared experience of working with communities to assess impacts Myanmar's mining sector, as part of the field research for the mining sector-wide impact assessment (SWIA) which will be consulted on in October and published in November 2016.
The PACT/Mekong Partnership for the Environment Programme is working on guidelines for public participation in Environmental Impact Assessment in the Mekong region. These draft guidelines are open for public comment until 31 October with a consultation meeting in Yangon on 14 October. As part of the process for putting together the guidelines, PACT and MCRB co-hosted a consultation of businesses on their experience of public participation in EIA in Myanmar on 24 February 2016.
---
Read also