Government Should Give Early 'Joined-Up' Advice to Investors to Avoid Negative Impacts on Biodiversity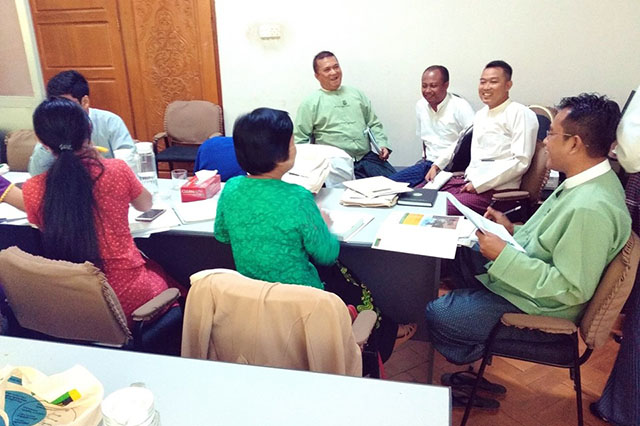 On 27 August, MCRB in cooperation with the Environmental Conservation Department of the Ministry of Natural Resources and Environmental Conservation (MONREC) held a one day workshop for ministry staff involved in investment in a variety of sectors which have significant potential negative impact on biodiversity, including oil and gas, mining, tourism and agriculture. Around thirty participants attended from relevant departments as well as the Forestry Department and the Directorate of Investment and Companies Administration (DICA).
The workshop (see agenda) was held as part of the follow-up to the suite of MCRB Briefing Papers on Biodiversity, Business and Human Rights in Myanmar published in November 2018, in English and Burmese, which included sectoral supplements. The Briefing Papers, produced with the support of the Helmsley Trust have been widely distributed within government and Parliament. These prompted requests for training from DICA in March 2019, and now ECD.
ECD DG U Hla Maung Thein gave the welcoming speech and highlighted the Myanmar Government's policy framework on conservation of biodiversity and protection of the environment, including the 2019 National Environmental Policy, 2018 Myanmar Sustainable Development Plan, the 2015 EIA Procedure, and recent laws such as the May 2018 Protection of Biodiversity and Conservation Areas Law and Sept 2018 Forest Law, available on the MONREC website, for which Regulations are under preparation.
He highlighted the importance which the State Counsellor Daw Aung San Suu Kyi attached to environmental conservation. He also stressed the need for close cross-departmental and inter-Ministerial collaboration to ensure that investment was responsible and respected the environment, and therefore welcomed attendance of officials from a variety of Ministries at the workshop.
Vicky Bowman, Director MCRB, presented on why companies should, and in some cases do, care about biodiversity.
Matthew Baird, an environmental lawyer who has worked with ECD for around five years to assisting ECD to make the Myanmar EIA process more effective, presented the legal and policy framework and how the Environmental Conservation Law/EIA process (led by ECD) and the Myanmar Investment Law (led by DICA) interacted and needed to be applied together and at an early stage to projects.
He emphasised the mitigation hierarchy – AVOID-REDUCE-MITIGATE COMPENSATE/OFFSET, and that avoiding impacts on biodiversity was always the best choice; offsets should only be used as a last resort.
Vicky explained the concept of 'alternatives analysis' as a part of applying the mitigation hierarchy. Examples of Offsets, including the only official offset to date in Myanmar, that proposed by Apache Cement, were discussed. Vicky Bowman also introduced the concept of Payment for Ecosystem Services (PES) and gave a Bhutan tourism example which might be of relevance for tourism in Myanmar in sensitive areas (see presentation).
Participants were split into four groups to discuss case studies (typical, but fictional) of a Myeik archipelago hotel project, an oil and gas pipeline, a gold mine in Shan state near the Lao border, and tissue banana plantations in Kachin State. They were split into three sub-groups (ECD/Forest Dept, DICA/line ministry and investor) and prepared for a role play in which the investor would visit a 'one-stop shop' to meet DICA and ECD at Screening stage, for advice on how to proceed with the investment and ensure that it did not have negative impacts on biodiversity.
In the roleplay that followed, prizes were awarded to the joint DICA-ECD team who handled the banana plantation investor, and gave clear advice around minimising pesticide impacts, and supporting local smallholders. The 'Most Responsible Investor' Award went to the roleplayer who played a Chinese investor in the pipeline, who turned up to the One Stop Shop with a full plan for avoiding negative impacts on the Shwesettaw Protected Area, various mitigation measures, an Emergency Management Plan and plans for community skills training to boost local employment and create value added forest products. Finally, the Most Useful Advice Award went to the ECD roleplayer who reminded the mining investor that he should ensure he had read his EIA consultant's report before signing off and sending it to ECD.
In discussion, ECD highlighted the importance of ensuring that when investors applied for and received an MIC Permit from DICA, they should be given guidance on biodiversity sensitivity, and also reminded that they might need to pursue alternatives to their original plans which should be identified in the scoping study of the EIA. The earlier these could be identified, the better, with ECD and DICA working closely together. The need to enhance the efficiency of the EIA process was also raised, with clear and realistic requirements placed on project proponents and their EIA consultants.
Vicky also highlighted how companies in Myanmar were contributing to collection and publication of biodiversity data on the various databases and websites for Myanmar biodiversity. One example was that of the seven Myanmar-based oil and gas operators (Woodside, Ophir Energy, Chevron, Posco Daewoo, MPRL E&P, Shell Myanmar Energy (Pte) Ltd and Equinor) who had aggregated their data from seismic marine mammal and turtle sightings into a report on Occurrence of Marine Fauna in Offshore Northwest Myanmar.
---