MCRB contributes to Australia-Myanmar Chamber of Commerce's Good Governance in Mining Seminar in Nya Pyi Taw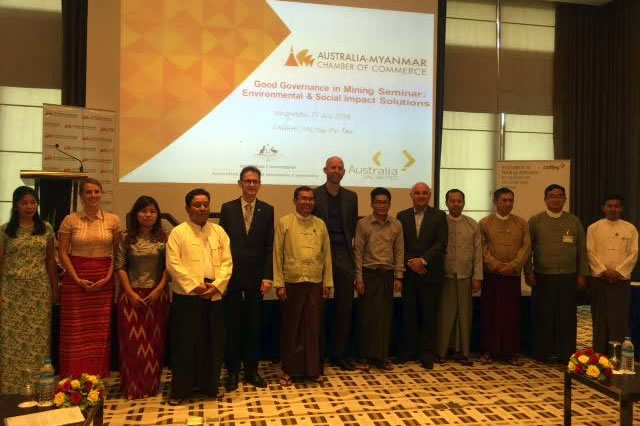 Aung Kyaw Soe, MCRB's Extractives Programme Manager, presented emerging findings from MCRB's Sector-Wide Impact Assessment at the seminar 'Good Governance in Mining: Best Practice Environmental and Social Impact Solutions' organised by Australia-Myanmar Chamber of Commerce in Nya Pyi Taw on 27th of July.
The Seminar was focused on Australian best practice environmental and social impact solutions for the mining sector in Myanmar. This was an opportunity to learn from the experts what Australian mining companies expect throughout the due diligence process, including standards regarding environmental and social impact assessments.
The Union Minister U Ohn Win and Nicholas Coppel, Australian Ambassador to Myanmar, delivered the opening speeches. The programme featured a number of presentations by experts from the field. U Khin Maung Han, Chairman of Myanmar Association of Mining Associations (MFMA) shared on 'The State of the Mining Industry in Myanmar and the Importance of Good Corporate Governance'. Steve Gimpel from PanAust talked about "Environmental & Social Impact Solutions: Regional Case Studies & Key Learnings from Lao" and shared PanAust's sustainable development program and capacity building within host areas and positive outcomes in Laos and some good practices in rehabilitation, erosion and sediment control.
Ma Khin Su Su Naing from Coffey, talked about "Future Projections for Responsible Mining in Myanmar: How to ensure you follow best practice". Yin Mar Shwe Hlaing (EGuard Environmental Services) also shared her six weeks internship experience in Coffey office in Australia.
The event was attended by around 40 participants including staff from MONREC (Ministry of Natural Resources and Environmental Conservation)'s Environmental Conservation Department, the Forestry Department, the Mining Department business representatives and students from the University of Forestry.
---
Read also