Building Understanding of Responsible Business and EIA for Communities in Yenangyaung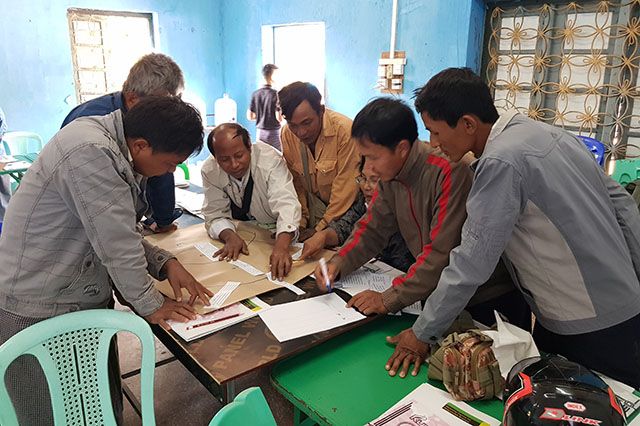 MCRB, in partnership with Green Future, a local civil society organisation (CSO), held a two day training session on Responsible Business and Environmental Impact Assessments (EIAs) in Yenangyaung on 10-11 February for around 35 participants from CSOs, Labour Organization, and community members who have a particular focus on impacts of the Myanmar-China Pipeline in this area. The training took place at the Shwe Yenanthar Labour Organization Office in Yenangyaung Township.
During the two days, MCRB presented on what 'responsible business' means, and the spectrum of activities that get called 'Corporate Social responsibility' (CSR) and Creating Shared Value (CSV) and also the three pillars of the United Nations Guiding Principles (UNGPs): protect, respect, and remedy. Aung Kyaw Soe, Manager of Extractives Programme from MCRB explained the purpose of EIAs and the phases, including 'scoping' key issues, data gathering, EIA investigations, identifying potential impacts through discussion with 'rights holders', including different groups within communities, and avoiding and reducing negative impacts. To do this effectively requires public participation and meaningful consultation, ideally based on the draft Myanmar EIA public participation guidelines. The participants undertook a Stakeholder Mapping exercise for an EIA process, to understand what good practice public participation by investors and their consultants looks like.
On Day 2, Khin Moet Moet Myint, Programme Associate of MCRB's Extractives Programme shared her experience of discussions in Norway in late 2019 Petroleum at the NORAD sponsored civil society training that took place in Stavanger and Oslo. This had particularly covered the management of the tax revenues from the oil and gas sector. Min Banyar Oo of MCRB spoke about good practices under the UN Guiding Principles on Business and Human Rights concerning complaints and grievance handling and showed the video made by MPRL E&P about the system they had designed which involves community volunteers in villages around their oil production block in Mann Field, an approach which participants found interesting. Other presentations covered Responsible Land-Based Investment, and Involuntary Resettlement.
Discussion over the two days showed that participants were particularly interested in systematic grievance handling based on local context in Yenangyaung Township. They shared their experience of land acquisition during the construction period of Myanmar-China Oil and Gas Pipeline. In addition, they described how changes were taking place in the direction of flow in Ayarwaddy River which they attributed to the oil and gas pipeline. Participants asked MCRB to provide similar training to MPs in Magway Region.
---
Read also