How to Foster a Safe and Happy Workplace for Persons with Disabilities?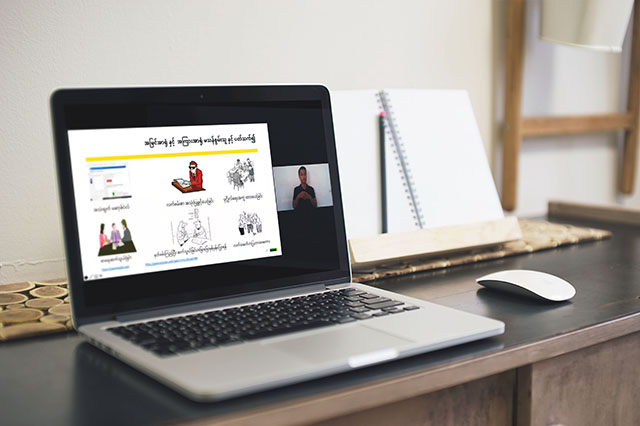 On 03 December, the International Day of Persons with Disabilities, Myint Naing Kyaw, MCRB's Programme Associate (Discrimination, Disability, Gender and Labour), gave a presentation at a webinar hosted by the Myanmar Business Coalition for Gender Equality (BCGE). The event was attended by around 60 participants, mostly from the business and disability rights organizations. Both sign language interpretation and closed captioning were provided.
The theme was Fostering Safe and Happy Workplaces for Persons with Disabilities and Myint Naing Kyaw explained about the different barriers that persons with disabilities experience in the workplace and the importance of universal design, reasonable accommodation, accessible information, education, communication (IEC) materials as well as how to build effective communication with fellow colleagues with disabilities in the workplace.
As this year's International Day of Persons with Disabilities theme is Building Back Better: toward a disability-inclusive, accessible and sustainable Post COVID 19 world, he also discussed how COVID-19 has impacted on the employment of persons with disabilities in Myanmar and globally. In particular, he highlighted on the employment impacts that COVID-19 has had on the female persons with disabilities and also shared recommendations for different stakeholders for a disability inclusive COVID-19 response.
The discussion also introduced the work that MCRB has undertaken for disability and business including Handbook for Employers on Employing Persons with Disabilities in Myanmar, the discussion on Employment of Persons With Disabilities, and Quotas – What Makes Sense For Myanmar?, and the upcoming event on Why Should You Hire Persons With Disabilities?.
In addition to MCRB resource materials, other documents related to the theme include the Round-table discussion notes from the Conference of States Parties to the Convention on the Rights of Persons with Disabilities on Disability and business: realizing the right to work in open, inclusive and accessible environments for persons with disabilities, the ILO Brief, Disability inclusion must remain a priority for companies, during and after the COVID pandemic and UN's Policy Brief: A Disability Inclusive Response to Covid-19.
---
Read also