How are Persons with Disabilities in Myanmar Experiencing Covid-19, Including Impacts on their Livelihoods?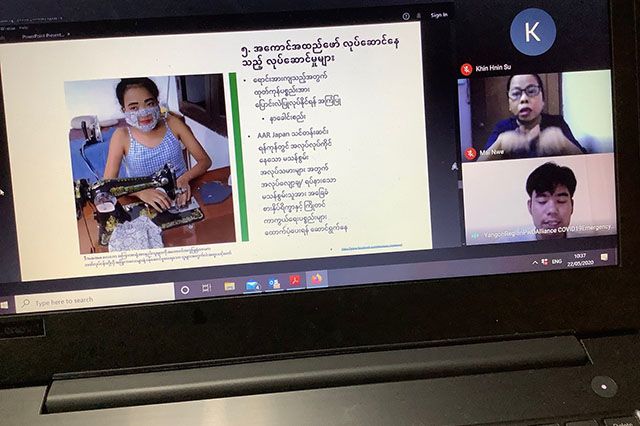 On 22 May, Hnin Wut Yee and Myint Naing Kyaw of MCRB participated in a webinar on Disability Inclusion in Crisis Response organised by the Myanmar Business Coalition for Gender Equality (BCGE) attended by around 50 participants, mainly from civil society organisations, with sign language interpretation.
Hnin Wut Yee and Myint Naing Kyaw's presentation covered nationwide findings from the Myanmar Disabilities Alliance on COVID-19 Response, good practices and lessons learnt about disability inclusion in COVID-19 crisis response, and the employment situation during COVID-19 for persons with disabilities in Myanmar.
Myint Naing Kyaw highlighted a social enterprise which employs persons with disabilities to produce 'Smile Masks' which protect the mouth but allow for lip reading to take place. Guest speaker U Myat Thu Winn the President of Shwe Min Tha Foundation presented his personal and institutional thoughts on how the COVID-19 was impacting on persons with disabilities and what it might mean for the 'new normal'. The presentation was accompanied by a sign language interpreter.
Resources and contacts to support persons with disabilities were shared, including information about assistive technology for working from home and MCRB's work on disability and employment, including the Employer's Handbook, and MCRB's facilitation of ongoing discussions about whether Myanmar should introduce a compulsory employment quota for persons with disabilities.
Since MCRB started working from home, MCRB has released Myint Naing Kyaw who normally works on disability and employment issues to volunteer part-time with the Yangon Region PwD Alliance for COVID-19 Emergency Response. MCRB entered into a partnership agreement earlier this year with BCGE to work on all aspects of equality and inclusion in the workplace.
---